I am delighted to be taking part int he blog tour for "Apple of my Eye" by Christine Barfknecht which is being organised by RABT Tours.

Date Published:
08-04-2018
Laurie Brandon isn't crazy. It's a bout of panic that has her muttering indecipherable sounds and crying out like a mad woman, an attack brought on by her infant daughter's sudden disappearance from the town's annual Apple Festival. Not insanity. She needs help to save Emily. Someone has to see that, do something.
But her recent history of psychosis coupled with witness claims that Emily was never at the festival with Laurie isn't helping her credibility. Neither is recent suspension from her job as a school teacher over stability concerns. Perhaps most damaging, though, is Laurie's insistence that her ex-husband, Jake, had something to do with the child's disappearance. Any sane person knows a dead man can't run off with a baby.
The town sheriff believes Laurie is, at best, unreliable and possibly something much worse. But Laurie knows what she saw. She knows other things, too, details too hard to believe and even harder to accept. Now, she needs to convince someone – anyone – that Emily is in danger before the sheriff locks Laurie away permanently.
About the Author: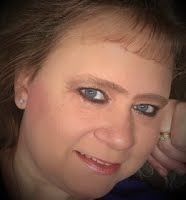 Christine Barfknecht has a passion for weaving the darkest bits of the human psyche into page-turning fiction. She's been crafting stories since before she printed her first word and credits her overactive imagination to a lifelong love of reading. She seeks out books that keep her hiding beneath the covers at night or turning pages long after her eyes begin to cross, and strives for those qualities in her own writing.
Christine lives in rural Wisconsin with her husband, children, and pets where she is also a virtual bookkeeping entrepreneur. In addition to reading and writing, she enjoys gardening, crafts, time with family, and traveling. APPLE OF MY EYE is her debut novel.
Purchase Links:
Amazon – Barnes and Noble – Smashwords
My Review:
This is certainly a thrilling read and one that keeps you on the edge of your seat almost constantly!
Our main character, Laurie has had a tough past as she was physically and verbally abused by her husband and it is made only worse by him not admitting that he does it and telling her its all in her mind.  He goes even further by telling everyone in her life (family, friend and work colleagues) that she is unstable and tells them that he is worried about her taking care of their daughter Emily.
Then, Laurie's tormentor dies in a road accident when he had been drunk driving (good riddance you would agree?!) – probably one of the happier days of Laurie's life as she realises she is finally free from him.
And then Emily goes missing and she thinks that she saw her husband taking her.  Of course no one believes Laurie (except her neighbour Brad) and they refuse to help her look for Emily and in fact add salt to the wound by having her carted off to the local psychiatric hospital.
The way the story goes is such a twist and turn of a plot with sub plots and side stories happening all over the place to keep you guessing about how it will all turn out in the end but come together they do and there is a bit of a surprise ending to it all as well which felt good ad right for the story (and something I had't guessed at either).
I would warn about some triggers in the book with the mental, verbal and physical abuse and some of it is hard to read but it is justified for the plot line and at no point did I think it was being sensationalised for the sake of drama.
Another part I loved was the fact that you don't really know, never 100%, whether Laurie is telling the truth or what .. it's another great element that keeps you guessing!
Thoroughly recommended to all thriller fans!
4 Stars.
Giveaway: